Easter Resources
See class pages for resources linked to your year group created by your class teacher. Below are general resources that can be used by the whole family.
Have a happy and Holy Easter.
RE Resources
Find below ideas and activities to complete during the Easter Break linked to Holy Week and the Easter Story.
Stations of the Cross
Click the link to find a power point of Stations of the Cross for children
https://media.loyolapress.com/assets/lent/stations-eng/stations-eng.html
Ideas/Activities
1. Make your own Stations of the Cross, you could collage, draw or paint the images.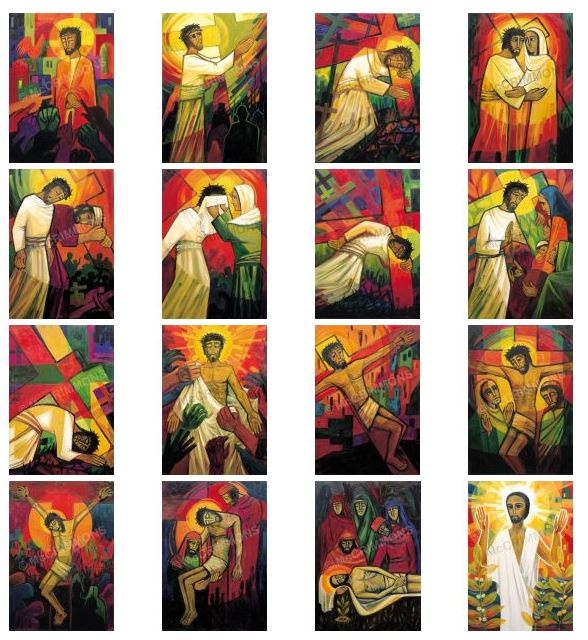 2. Write a prayer that could be said after each station of the cross.
3. Imagine you were there. You could be a Disciple, a soldier or bystander, what would you be thinking or feeling. Write a diary, speech or thought bubble.
Easter Story


Click below for an Interactive version of the Easter Story

https://www.topmarks.co.uk/easter/easterstory.aspx
Holy Week Activities - Activities and reading for each day of Holy Week
Click here to download the activities
Plan and deliver a prayer and worship session based on Easter – think of the 4 sections:
Welcome / gather – What will be your focal point? (candle, bible, statue) How will you sit? Will you listen to / sing a hymn?
Listen / word – Choose a reading from the Gospels about Easter.
Respond / worship – What is the message of the story? Pray some bidding prayers – that we put others first like Christ did; that we accept God has a plan for us, but we may not know what it is; wo show love to all; to protect us during this difficult time
Mission / welfare – What do you want everyone to do as a result of this prayer and worship session? Do you want to give them anything to remind them? ( A heart to remind them to show love to all like Jesus did). What hymn will you sing linked to Easter to finish.
Things to Do
Listen / sing Easter hymns on youtube – Servant King, I danced in the morning.
Bake some biscuits in the shape of a cross and decorate.
Share a meal with your family. Reflect on the Last Supper and try to serve everyone there and put their needs first.
Go on an Easter egg hunt. Can you decorate paper eggs and hide around the house and garden for your family to find.
Create an Easter wordsearch for your family / friend to complete.
Make up an Easter song to a popular tune you already know.
Research how Easter is celebrated around the world.
Crafts
Collect twigs from outside and make a crucifix..
Make finger puppets to tell the Easter story – cloth or paper.
Make a crucifix out of cardboard and decorate it – 20 silver coins, love hearts, religious signs / symbols, bright colours for a brighter future with Christ/ stained glass window effect
Make an Easter banner with the message of Easter – love of all, serve all, hope for the future, God loves us.
Make a model of the empty tomb using cardboard or paper plate.
Boil an egg and decorate the shell with an aspect of the Easter story.
Make an Easter card and deliver to your neighbours.
Record you reading the Easter Story and send to your family over text or whatsapp.
HOW TO MAKE AN EASTER GARDEN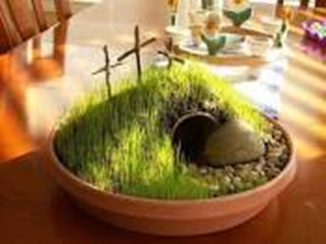 You need:
* A shallow tray or dish
*Garden soil or potting compost
*Moss, cut grass or sand
*Dried twigs
*Sewing thread
*Small pot
*Flat stone large enough to cover the mouth of the pot
*Egg cups (or other small containers)
*Small flowers
*Gravel
Fill the tray with soil or potting compost.
Arrange it to make a hill on one side of the tray.
Cover the soil with moss, grass or sand.
Make three crosses with dried twigs tied together with sewing thread and place on the hilltop.
Press the small pot into the hillside to make a cave like the garden tomb. Place the stone over the mouth of the tomb.
Press egg-cups full of water into the soil around the garden and fill with flowers.
Make a path coming from the tomb with gravel, to show how the disciples ran to the tomb on Easter morning.
Early on Easter morning, move back the stone from the tomb ~ showing that it is empty.
MAKE A TOMB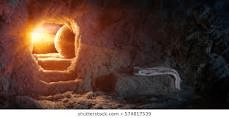 We made a tomb by using paper mâché over a balloon. (cover strips of newspaper with mixture of 1 cup flour to 1 cup water). Let dry overnight and paint with spray paint or water base paint. We spray painted the tomb dark green and when dry sponged painted with grey. Place the paper mâché tomb in a garden setting like above. Wrap up a small toy figure in white cloth or tissue paper. Place a large stone in front of the tomb, and 2 soldiers as tomb guardsmen in front of the tomb. (We bought a package of three 2 inch plain wooden figures from the craft store. We painted them to look like 2 soldiers and Jesus.) Read Matthew 27:57-66 with your children.
Make some crosses from salt dough and decorate.
Recipe
1 cupful of plain flour (about 250g)
half a cupful of table salt (about 125g)
half a cupful of water (about 125ml)
Method
Preheat the oven to its lowest setting and line a baking sheet with baking parchment.

2. Mix the flour and salt in a large bowl. Add the water and stir until it comes together into a ball.

3. Transfer the dough to a floured work surface and shape into your chosen model. You can roll it out and cut out shapes, numbers or letters using biscuit cutters, or make any kind of model you can think of. 4. Put your finished items on the lined baking sheet and bake for 3 hrs or until solid.
Leave to cool and then paint/ decorate.