School Closure General Resources
CLICK HERE FOR NEW RESOURCES ORGANISED BY YEAR GROUP
Below are a list of useful resources, websites and free activities for you to complete at home during this time.
We hope you find it useful and will update it regularly with new ideas and resources.
We are aware that some of the online resources are not working to full capacity due to the numbers of people trying to access them all at once. Please note a lot of the live lessons are available all day so maybe worth accessing not at peak time.
We have included a list on non computer based work to support you during this time.
OFFLINE ACTIVITIES
It is recommended that you read with and to your child daily. Could they read aloud to a sibling, pet or record themselves and send to a relative that is not in your home.

Outdoor crafts- craft art work using nature, this could be sculptures ( based on artist Andy Goldsworthy) or using glue or sellotape decorate their names with nature .

Build a den, inside or outside.

Create a story book.

Keep a diary of events, if we are learning about the corona-virus in the future could you be the next Samuel Pepys?

Circuit training- E.g. 10 jumping jacks , 10 star jumps, 10 burpees, 10 lunges, 10 sit ups, 10 squats.

Dance party- create a dance to your favourite song

Daily mile, can you run 10 laps around your garden

Compose a piece of music using items from around your house.

Create a poster about online e-safety, road safety, or healthy eating.

Design a costume or set design for a song or musical of your choice.

Make an instrument out of household items.

Learn some beat-boxing or rapping skills

Make your own song, poem or rap about an issue you care about.

Choose an activity from the spelling grid- click here
Picture News- Big Questions to think about as a family.
30th March 2020- Resources Remaining Positive
EYFS Resources Remaining Positive
23rd March 2020 - Resources Space Tourism
16th March 2020 - Resources Starting Over
Reading
Free online children's books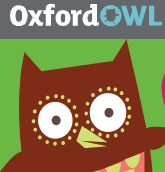 Oxford owl offers free ebooks for all school aged children.
These books fit with our reading scheme within school.
https://www.oxfordowl.co.uk/for-home/find-a-book/library-page/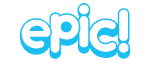 getepic.com offer a free 30 day trial for books for Primary aged children. These include well known texts such as Where The Wild Things Are and Diary Of A Wimpy Kid.
https://www.getepic.com/?utm_channel=search&gclid=CjwKCAjwvOHzBRBoEiwA48i6Arzog07SeqyMMXJ73tE3HLKLP5EcvTERvh0HCMeXAnqn6_CTT3AnDRoCftkQAvD_BwE
storiesaudible.com
Note that this is a different link to audible it offers free children's audiobooks without signing up
https://stories.audible.com/start-listen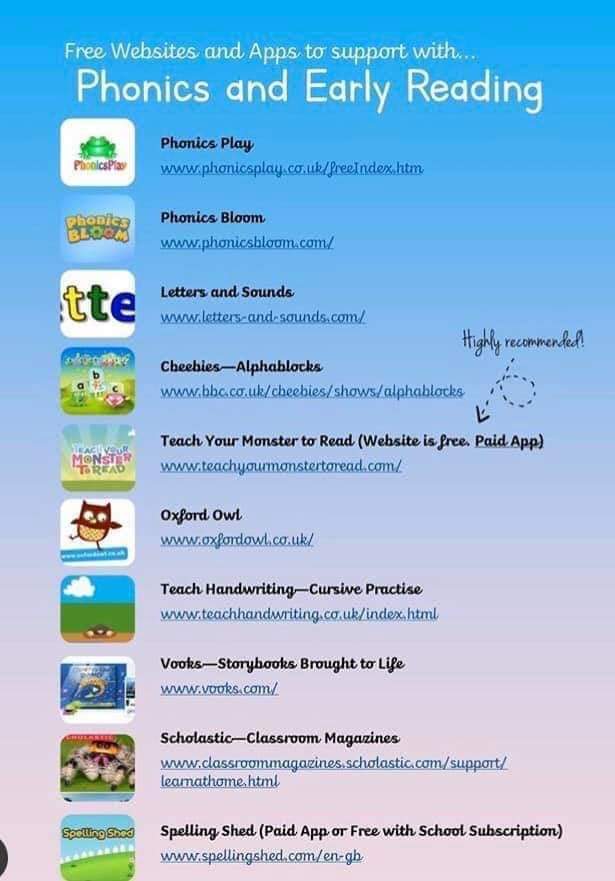 Many Authors including Oliver Jeffers are reading their books via youtube or online
Maths/Science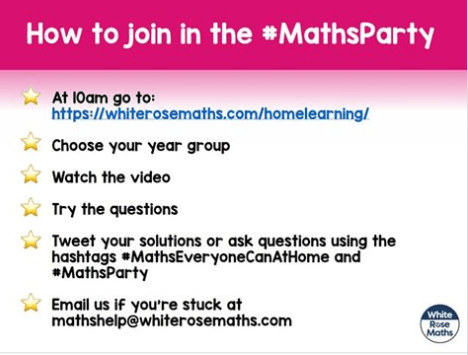 White Rose Maths- the Scheme we follow in school have produced free online videos and activities for each year group that will be released daily at 10am. These are great daily activities for your child to complete and they have staff available via email to support if your child gets stuck. And the answers are provided for the parents and carers.
https://whiterosemaths.com/homelearning/?fbclid=IwAR2Ns4jLFCXQfpBM8KkAMSnZb94-QutWVjM_mTMXQJFMPSgRLty66Q1tD4g
Click here to access Tara Loughran's suggested KS1 Maths games.
Daily Maths Problem Solving and Reasoning challenges for KS1, Year 3/4 and Year 5/6 from I See Maths
http://www.iseemaths.com/home-lessons/?fbclid=IwAR3Y5DUMfbGrZEclhMkO0xmU4xJDrh1PLf9KrR94p3caAp2F-4BWTptEofg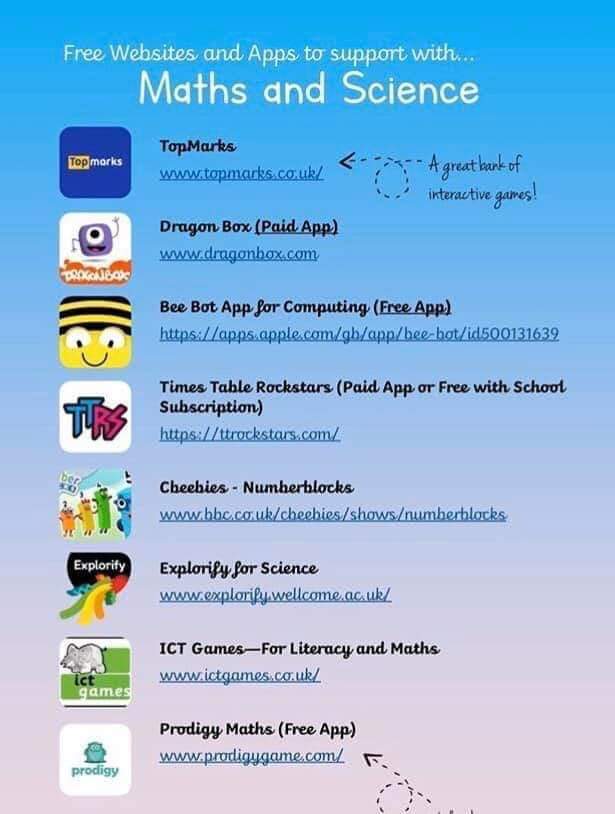 https://www.tutorhunt.com/tutorbot/ offers free online games where children can practice their maths skills. The games aim to improve your child's fluency, speed and accuracy. Give them a go!
French
Madame Birtwistle has set some exciting French activities for KS2
Video about Colours to support your learning- https://youtu.be/SlMAzRbLOAo
KS2 French: Summer Term Home Learning Optional Challenge Week 2
Create a free 3 month "Le Club Français" account for your child. It has stories, songs, games & downloadable activity sheets!
Click on the link, enter the promo code LCF2020sch and then create a username and password!
I hope your child will enjoying learning French on this fun, interactive website!
Link: https://www.lcfclubs.com/babelzoneNEW/index.asp
KS2 French Summer Term Home Learning French Challenge Week 4: Mindfulness! Watch this video to learn five fun & easy French yoga poses that honour some of the beauty and architecture of France: https://youtu.be/4mm9GNucgYQ
Follow on activity: Print off the activity sheet attached and practice your new French yoga poses during your mindfulness moments!
Bon courage! (Good luck)
Madame Birtwistle
Yoga Booklet- Click Here
Mindfulness/ Health/PE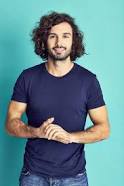 Daily Live Workouts with Joe Wicks- Great for children and adults of all ages.
Here is the link for Monday 23rd March- https://www.youtube.com/watch?v=Rz0go1pTda8
It is easy to find if you are on youtube search Joe Wicks Daily workout. They are live at 9am each morning but can be completed at anytime as they are available on youtube. Enjoy.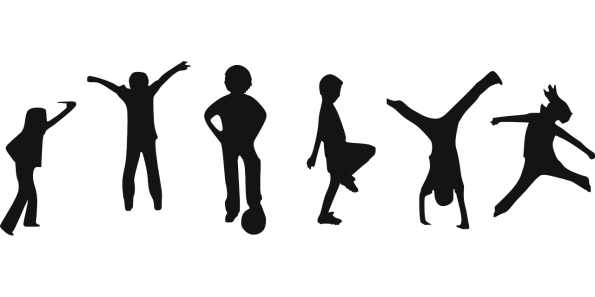 Our team of coaches at SC Education have put together a work out routine for all to follow. Click on Exercise Plan and Exercise Record.
Follow this link for their exercise tutorials https://www.youtube.com/channel/UCkD37J7Y_BtIYZd4ZcG5osA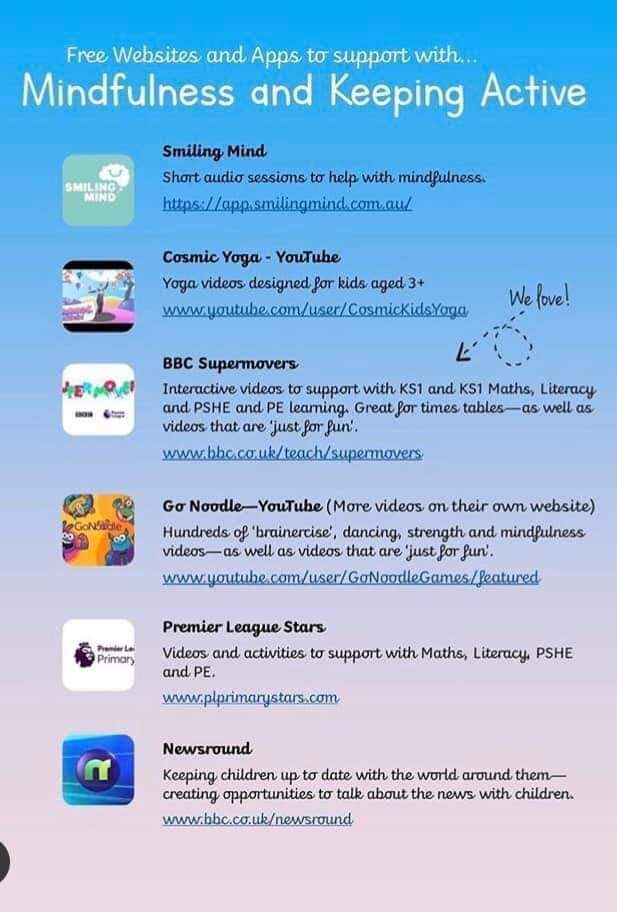 Music
Click here to access a PDF of musical activities
ESAFETY
Click on the links below to find suggested ideas which relate to https://www.thinkuknow.co.uk/
These activities will be updated fortnightly.
General