Year 6
During Year 6 we endeavour to prepare all children for a smooth transition to secondary school. This is an exciting and hopefully memorable time for us.
Half Term Bake Off Challenge



Are you a budding baker?
During half term, create a cake, biscuits, buns, bread or a bake of your choice. You can bake the cake from scratch or decorate ready made biscuits or cakes.

Share you images to the year 6 email address below and Miss Grundy will add them to the school website on Monday 1st June for the school to see. There will be a link on the school main page..

Email address: year6@st-michaels.bury.sch.uk

I made Millionaire Shortbread for the first time, it was very yummy and didn't last very long!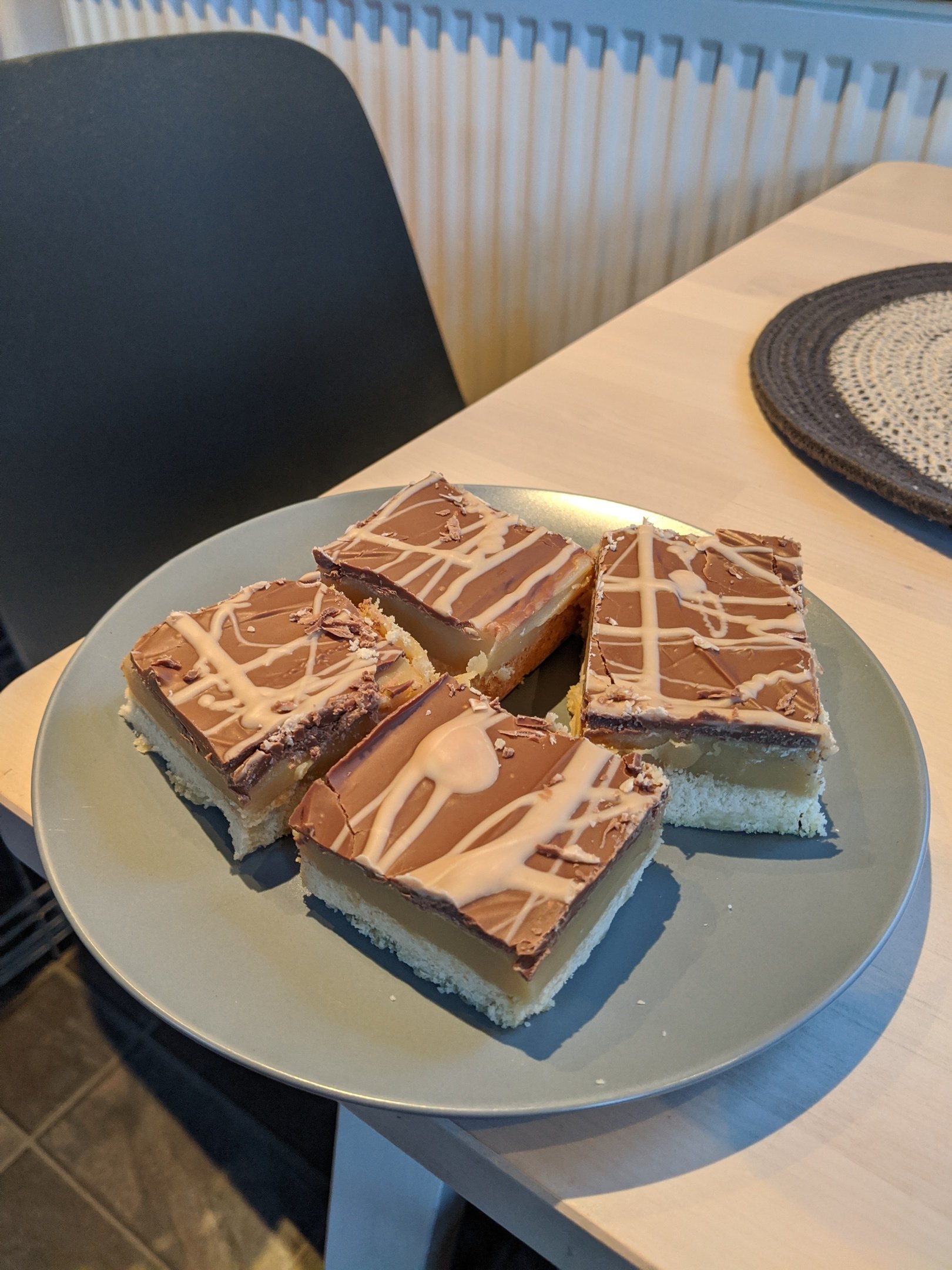 Homework
This section has been set up for children to access during the school closure.
Click here to access general resources for all year groups during the school closure including online videos and ebooks.
Please feel free to share any work completed with us via our class email address.
Miss Grundy will share your work via our class page on the website- click here to see what work your classmates have been up to.
Below are ideas for this weeks work. Please complete what you can, if you struggle to access any of the resources or activities use any of the websites provided to work through activities or the CGP books that have been sent home.
It is important that you continue to read each day, this can be a reading book or a book online.
Click on the links below to access work from previous weeks
Week Beginning 23th March 2020
Week Beginning 30th March 2020
Week Beginning 20th April 2020
Week Beginning 27th April 2020
VE Day Activities- Power point
Maths sheets WB 11th May
Click the links below for the resources for the sessions
Pie Corbett Talk for Writing Booklet 2
British Science Week Activities
Freda Kahol Powerpoint and Activities
Tara Maths
Art- Texture and Shading
WB 15th June
Work can be found on the class dojo page if you need log in details please email the year 6 email or contact the office..
WB 22nd June
WB 29th June
WB 6th July
WB 13th July
French end of term challenge
Quiz PPT:
Quiz answer sheet:
Merci beaucoup !
Bonjour !
Cross-curricular
French
/Art challenge!
Revise colours, learn a few facts about a
French
artist and learn how to draw a still life in the style of Matisse.
Ask your teacher to share your artwork with me to receive a "home learning hero" certificate.
Amuse-toi bien ! (Have fun!)
Madame Birtwistle
Bonjour !
In France, there is usually a cinema festival at this time of year which organises exciting events across the country to celebrate film!
Learn a few facts about
French
cinema, watch some trailers of
French
films and express your opinion about them!
Amuse-toi bien ! (Have fun!)
Madame Birtwistle
French Home Learning Challenge Summer Term 2 Week 2:
Madame Birtwistle is inviting you to join her on a virtual roadtrip to discover the 13 different regions of France:
https://app.box.com/s/jwuk2g8ngdu7v3u4ybl79cfmkr2vjbgy
Tip: Remember to click on "Slideshow" then "From beginning" in order for the hyperlinks to work!
Follow on activity: When you have finished your virtual visit, make a poster about one of the regions. Ask your class teacher to forward it to me in order to receive your "Virtual Road Trip" certificate.
Bon courage (Good luck)
Madame Birtwistle
French Challenge 1: Cook a French dish! Enjoy this fun, interactive, bilingual cookbook that features 10 authentic classic French recipes for young chefs to follow (with a little help!) including starters, main courses and desserts. Bon appétit ! I would love to see as many of your culinary creations as possible so please share your photos with me via your class teacher or post your photos on Twitter @MmeBirtwistle
There are two different versions of the cookbook: An interactive PowerPoint to use online or alternatively a PDF to print off with QR codes to scan.
Bon courage !
(Good luck)
Madame Birtwistle
Click the link below for the documents
I have attached the Mindfulness Journal we have been using in class for you to use at home. Click Here
Half Term Activities
Play

a

game

of

countdown,

you

can

play

on

your

own

or

against

your

family

via

the

website

below.



http://www.maths-resources.com/countdown/practise.html

Try using your coding skills to bake a cake!

Click below
https://www.bt.com/codeacake

Create

a

board

game

for

the

family

to

play

using

the

templates

attached ( Click here).

Can

you

create

a

new

board

game

or

your

own

St

Michael's

or

Whitefield

version

of

Monopoly?

Paper Plane Challenge



Challenge your family to a paper plane race.
Does the size, shape or material of your plane change the speed and distance it can travel?

Perspective Challenge





Take a photograph of objects or people where you have played with the perspectives, making things look larger or smaller than they are.




See image for inspiration.
Flash Back 4 - Weekly Maths Arithmetic practice- recapping work already covered this year- click below
French Resources
KS2 French Summer Term Home Learning French Challenge Week 4: Mindfulness! Watch this video to learn five fun & easy French yoga poses that honour some of the beauty and architecture of France: https://youtu.be/4mm9GNucgYQ
Follow on activity: Print off the activity sheet attached and practice your new French yoga poses during your mindfulness moments!
Bon courage! (Good luck)
Madame Birtwistle
Yoga Booklet - Click Here
Follow me on Twitter: @MmeBirtwistle
Madame Birtwistle has set some exciting activities for this half term - click the links to access the resources
Video about Colours to support your learning- https://youtu.be/SlMAzRbLOAo
KS2 French: Summer Term Home Learning Optional Challenge Week 2
Create a free 3 month "Le Club Français" account for your child. It has stories, songs, games & downloadable activity sheets!
Click on the link, enter the promo code LCF2020sch and then create a username and password!
I hope your child will enjoying learning French on this fun, interactive website!
Link: https://www.lcfclubs.com/babelzoneNEW/index.asp
PIRATE GAME
PIRATE GAME SHEET- I have attached the resources to play the pirate game at home. Enjoy playing with your family.

Please encourage your child to bring a water bottle to school every day as this will help avoid dehydration.
PE days are Monday and Tuesday. Children need to make sure they have full PE kit on these days.
Click the link above to see what Year 6 will be learning about over the year.
Termly Newsletters
Click below to find out more information about what your children are learning each term and activities and places you can visit in our local area to support our topics.
Have a look at what we have been doing over the year on our Photos Page- Click here
SAT's Information- Parents Workshop- Jan 2019
Click the link below to access the information shared at our parents workshop in January.
Weblinks for children

Click below to go to our Website links